Sunday, February 25th 2018
What The Heck Is The Put-Option Call-Option Method?
How Would You Like To Fly Under The Radar, by Trading Binary Options to Exploit The Greedy Brokers At Their Own Game?
_____________________________
Well Now You Can and It's Called Forex Binary Options Trading!
Attention, The System Now Comes With an Update to the Updated Version!
You can Use The Old Version Which is Included But The Brand New
Updated is By Far The Best Yet Binary Options Strategy
Info Near Bottom of Page!
From The Desk of Trader Ed : Dear Friend,
Has stop losses, robots, timing, stress or newbie confusion caused you to not reap the Forex profits you deserve? Well, I'm about to show you a stupidly simple way to consistently pull $8000. or more per month out of the forex markets through currency binaries.
Who the heck are you Ed and why should I listen to you?
For those of you that don't know me, I have been trading forex online successfully since it started in 2001. Before that I was trading commodity options online for a few years. At that time my internet connection was so slow and unreliable that I had one hand on my mouse and the telephone in the other, ready to call my broker if I lost my connection. And now for about eight months I have been trading options on binaries or often called binary options and/or digital options which are not completely new but they've only become popular in the last year or two. During all this time, I have developed quite a few trading systems to include the Forex Super Scalper and the last was the the Fx Binary Combo Strategy.
Enough about me, lets talk about you. Have you struggled with any of the things I mentioned in the first paragraph? Or are you a beginner maybe even a complete newbie wanting to supplement your income adequately or even replace a full-time income?
Well for the first time ever, Newbies, Beginners and Pro Traders alike can now be on equal ground with the Put-Option Call-Option Method of Forex Binary Options Trading!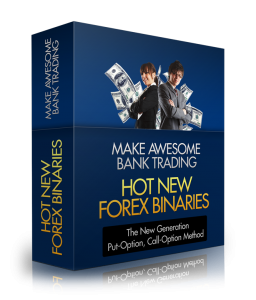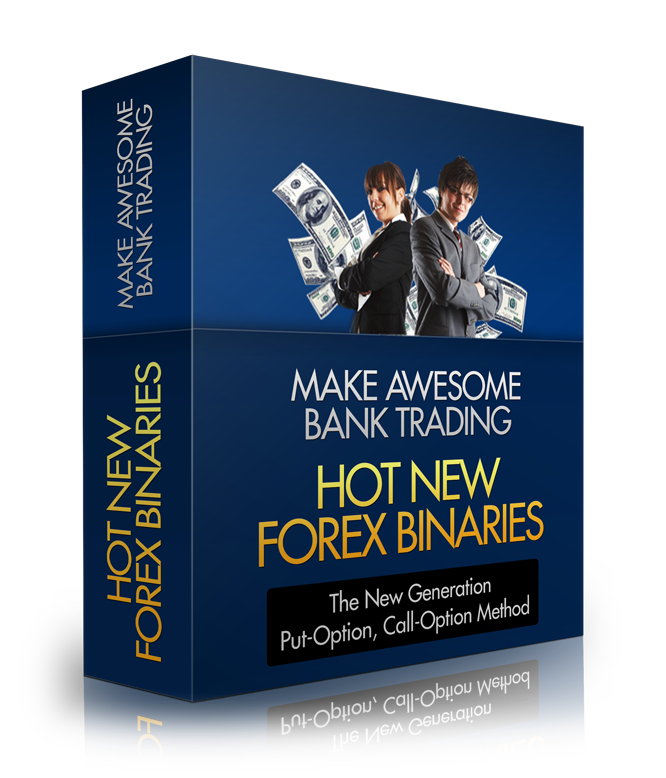 The problem with forex brokers : Their profits are supposed to be derived from the spread but it is a known fact that many dealing desks hunt stop/losses. Even if you don't believe this or your broker doesn't participate in such practices, just the natural flow of the market in many cases can cause you to be stopped out just before the market turns and goes your way. Sound familiar?
The problem trading binaries with the brokers : Their profit is derived from the fact, if you lose, they win and if you win, they lose hence the word binary – 2 ways to go. The option part – is it going to go up or down before your chosen expiry time? The broker makes a ton of money because most people trade without a plan or system or for that matter, they don't have a clue of what they are doing. They trade by luck, gut feeling, or whatever, kind of a gambling spirit. But not you my friend.
You are going to exploit and beat the brokers at their own game with my new revolutionary Put-Option Call-Option stupidly simple system of trading currency binaries. And guess what?
I will be showing you in the following charts that you have to try very hard to lose a trade!
You will generate your binaries trades using the put-option call-option method with a demo MT4 forex platform. At first if you so desire you can practice trading the system on a demo binaries broker platform and when comfortable, open a live account with $200. or so and begin live trading with as little as $10. per trade until you're ready to heat it up a notch or two. It is possible to reach $8000. per month trading only $100. per trade and only trading a few hours per day scheduled at your convenience after you become proficient trading the system and remember, it is stupidly simple.
O.K. I am not going to insult your intelligence or bore you with a long drawn out sales letter. They say a picture is worth a 1000 words so here are a few thousand words…….
EUR/USD DURING "NEW YORK SESSION"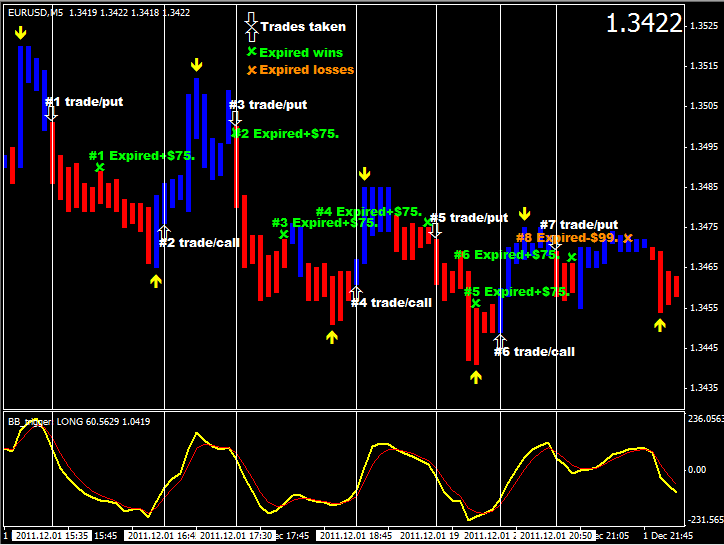 This Chart represents 7 trades generated in the first 6 hours of the New York session. Notice the stupidly simple method. First an arrow pops up along with an audible and visible alert to let you know a trade will be coming up. Then you just wait for your binary lines to change color. Lastly, the custom BB_Trigger confirms the entry. That's it, you jump in on the put-option or call-option whatever the case may be. The accuracy is unbelievable! And guess what? You never get stopped out. This was the average profit for $100. trades but most broker payouts vary anywhere from 71% to 81% for winners. Some even give a losing bonus of 1% to 15%. There was 1 loser, actually #7 trade, not #8 (sorry my bad) I am really trying to show you as many trades as possible and I want you to see that the system can generate a losing trade but our trading rules dictate to end trading the session once it is over 4 hours into it. If we had done that, we would have ended with 5 winners. Ends up to be about the same profit but less time trading and more time for family. Is this a piece of cake or what? Can we call this stupidly simple?
GBP/USD DIFFERENT TIME AND PAIR "LONDON SESSION"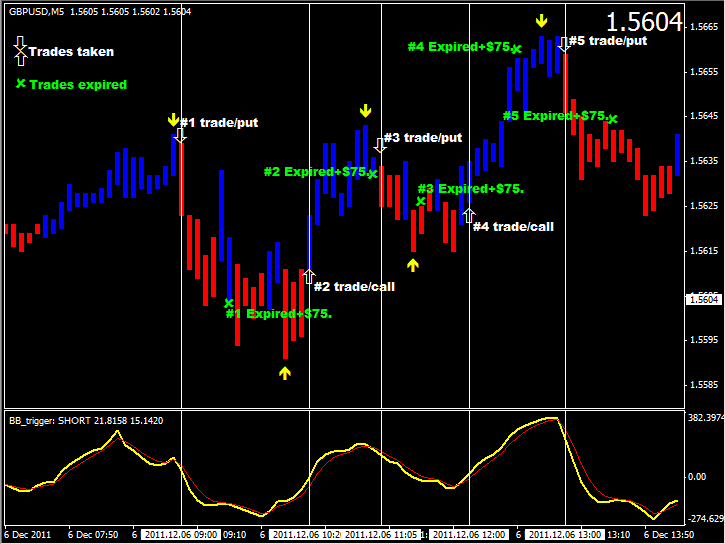 This chart represents 5 winners in a 4 hour period during the London opening session. With this broker, it was a cool $375. profit but that may vary a little up or down, about 100 bucks an hour.. Not bad for 4 hours of fun,eh?
NZD/USD DURING THE "ASIAN SESSION"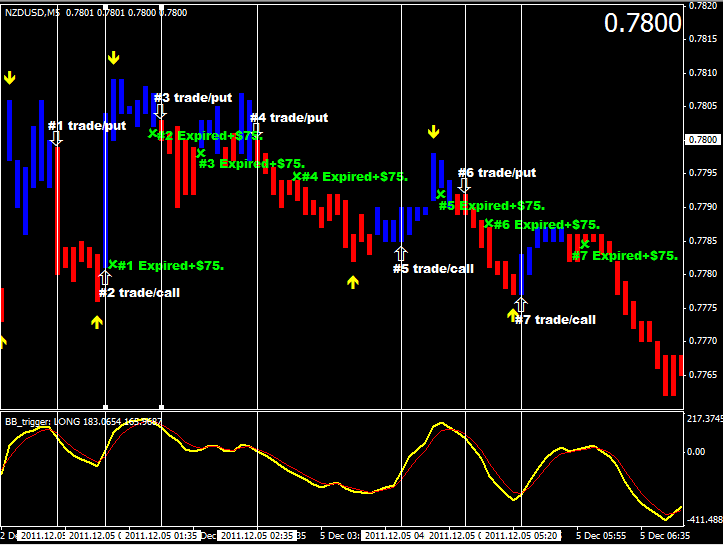 Hey, can't trade the N.Y. or London session for one reason or the other? Fed up with the Euro and British Pound / USD? No worries, we got you covered. Kiwi/USD about an hour before to a few hours after opening of the Asian session. We're looking at 7 trades, all winners for a cool $525. bucks. Are you getting excited? I sure am.
Let's Show You A Short Video Of Me Making A Live Trade, O.K.?
As you probably noticed, the making of videos is definitely not my strong point but on the last system that I developed, everyone seemed to express the desire for a video of a live trade, so although it makes me a bit nervous, I decided that I should make one for you and believe me, there was no retakes. If I had of lost the trade, that is what you'd have got. I guess I would have never had made it in Hollywood (heh, heh) O.K. another couple of charts for you to ponder.
EUR/USD GOING DEEP INTO THE "ASIAN SESSION"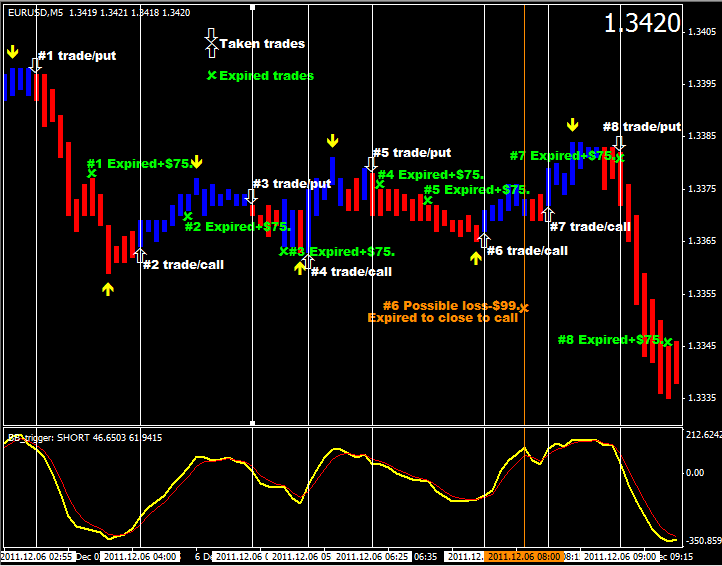 Well another Asian session chart to show you the last wasn't a fluke. Different pair, different time. I don't advise trading so late into the session but Hey! if you have no choice, you can still rake in some bucks as seen above. Eight trades from opening until about 6 hours in to the session. All winners except 1 possible loser that was really too close to call as it all depended on how fast the trade was placed and the workings of the various binary brokers platforms. I'll call it a loss for a total profit of $426. trading into a couple of hours after the put option – call option rules dictate. Last chart :
EUR/JPY DURING THE "NEW YORK SESSION"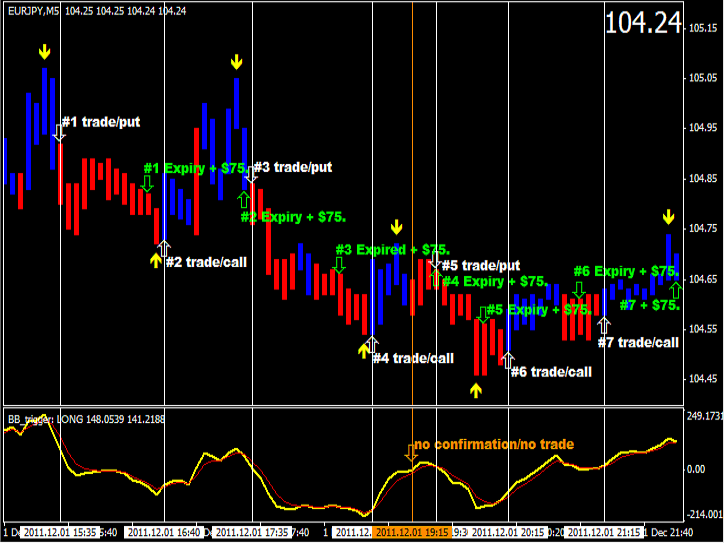 Last but not least, the flighty eur/jpy during the N.Y. session again going a little deeper than I recommend but 7 trades and 7 winners! Notice the orange line and text. Our BB_Trigger did not confirm the trade so we don't make it regardless whether foresight shows it as a winner or loser. "Don't Buck The System!" Notice trade #7 is a re-entry from the yellow arrow up signal for #6 trade. This is permissible and even advisable when things look right & line up. Well folks, if a pic is worth 1000 words, you've had over 5000 words in what I think is a much more enjoyable format.
HEY! I thought I'd be a nice guy so I broke down and made you a video of another live trade.
Just Click On The Link Below
http://screencast.com/t/G0P0DRX1ro
Check this out, a girl named Nancy bought this same system that you are looking at around Christmas time. She practiced with a demo account all through the wild holiday trading for a few weeks and then went live. Also she is a newbie trader and I supported her like I do everyone with all her questions while she was practicing and here is one day's results of her trading…..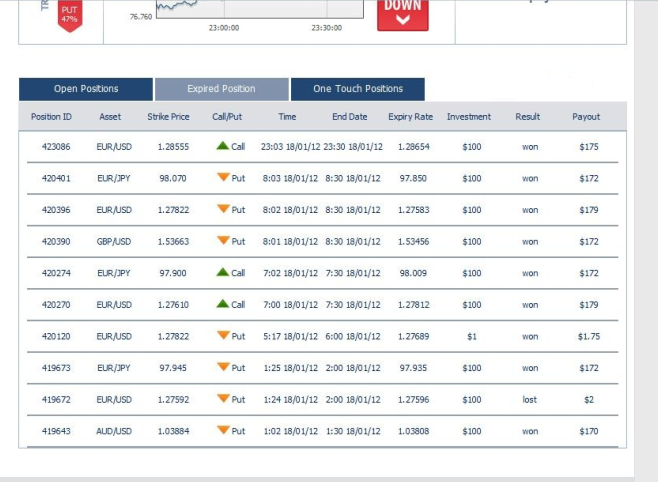 Almost $500. Profit! Not Too Bad For a Newbie, heh?
Alert! Next is New Info on The Final Updated Version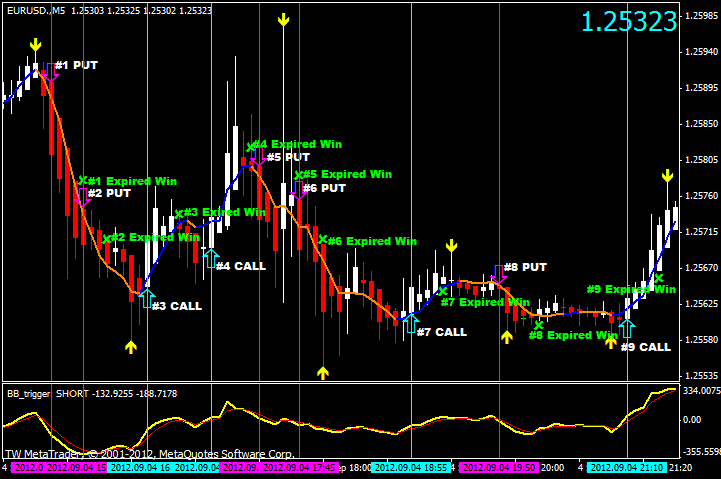 This baby works great even in these unpredictable crazy markets! There is never more than 1 trade open at a time even though you see some re-entries on closing expiry candles but they don't overlap because the expiry takes place at the very opening of that candle and the trade would be placed so many seconds later because of the time lapse from the time it is confirmed to the time you get it placed. This is called making big bucks with minimum risk! Nine good trades generated in about 6 hours but the first 6 were generated in 3 and 1/2 hours. O.K. Ed, but how about real life? I thought you would never ask. Check out these 2 videos of me making live trades for you below. Over $700. bucks profit in under 1 hour. You'll have to excuse the first one as I ran out of video before I was completely finished but the account results are below.
CLICK HERE TO SEE THE AUS/AUD TRADE
CLICK HERE TO SEE THE USD/JPY TRADE

Original Unsolicited Email Testimony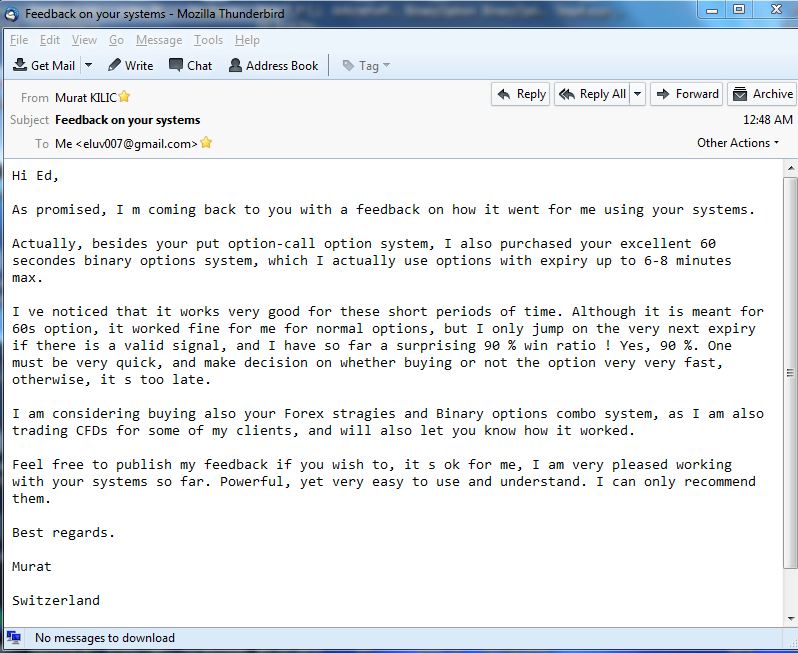 O. K. The ball is in your court, so to speak. My advice? Grab it now! $37. bucks is a drop in the bucket towards what you could reap from trading this system. If $37. is a problem – trading the Put Option Call Option Forex Binaries System might not be for you. But I do hope that you can see clear to purchase it now for your benefit of a better life, more money, more time with your family, a fun way to earn money and I could go on and on but I believe that you get the point! Cheers, Ed
"You Will Receive Your Product Even If It Is 3am"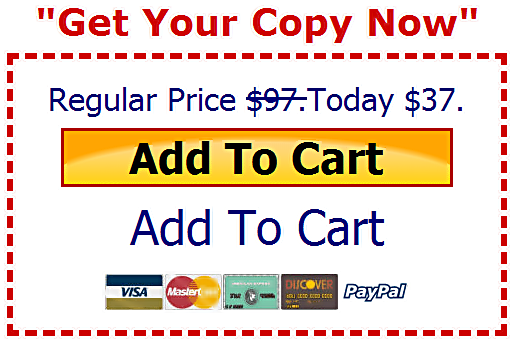 "You Will Receive Your Product Even If It Is 3am"
"Refund Policy: There are no refunds due to this being a digital product. If you cannot accept this policy,
do not purchase my product. By purchasing my products you are accepting my refund policy."
Best Recommended Binary Options Brokers At This Time
#1 Binary Options Broker Choice Accepts Traders Worldwide.
They have all types of trading to include rotating times
And Countdown 60 seconds, 2 minute & 5 minute expiry trading!
Last But Not Least, Easy and Prompt Withdrawals & Funding!
This Broker Does Not Accept U.S. Traders
MW Also Has a Free Demo Without Funding a Live Account

Whoops Almost Forgot Bonuses! Bonus #1: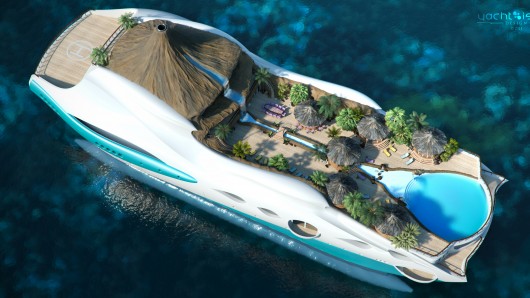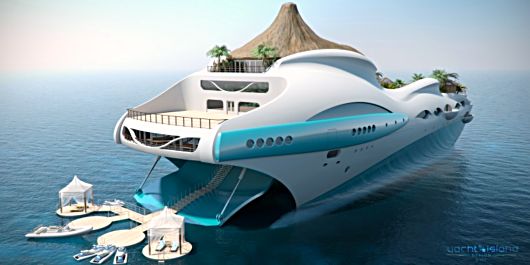 One Month's Free Use Of My Island Yacht! Bonus #2: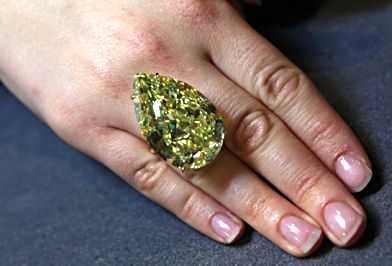 Rare yellow diamond expected to fetch $11-15M
Whoa Boy : Just Kidding!
*DISCLAIMER: BONUS #1 & BONUS #2 ARE ONLY A JOKE (HUMOR, LIGHTEN UP)*
Bonus #3 (Your Real Bonus)
Unlimited Lifetime Support For The Forex Currency Binaries System. In any language other than English, support will be given to the best of my ability using an online language translator.
I try to answer all emails within 1 hour.
JUST CLICK ON THE ORANGE "ADD TO CART" TO PURCHASE NOW!
_________________________________________________
"You Will Receive Your Product Even If It Is 3am"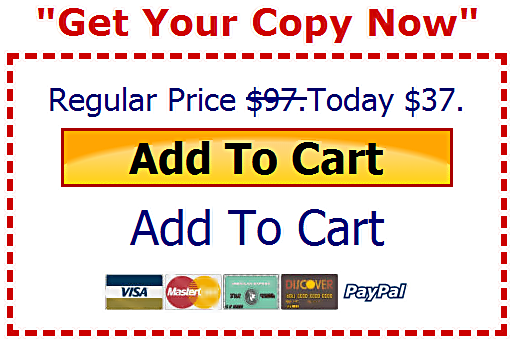 "You Will Receive Your Product Even If It Is 3am"
"Refund Policy: There are no refunds due to this being a digital product. If you cannot accept this policy,
do not purchase my product. By purchasing my products you are accepting my refund policy."
Due to the pricing which is much lower than similar products of this nature on the market and being delivered digitally, there is a no refund policy available but unlimited support is available as long as you own the product! In any language other than English, support will be given to the best of my ability using an online language translator.
Happy Trading, God Bless, Good Luck and Cheers : From Trader Ed



CLICK HERE to See my Other Excellent Systems to Trade Binary Options!



_______________________________________________________________________________
READ THIS BEFORE CONSIDERING ANY INVESTMENT RECOMMENDATIONS: All forms of trading carry a high level of risk so you should only speculate with money you can afford to lose. You can lose more than your initial deposit and stake. Please ensure your chosen method matches your investment objectives, familiarize yourself with the risks involved and if necessary seek independent advice. NFA and CTFC Required Disclaimers: Trading in the Foreign Exchange market is a challenging opportunity where above average returns are available for educated and experienced investors who are willing to take above average risk. However, before deciding to participate in Foreign Exchange (FX) trading, you should carefully consider your investment objectives, level of experience and risk appetite. Do not invest money you cannot afford to lose. CFTC RULE 4.41 – HYPOTHETICAL OR SIMULATED PERFORMANCE RESULTS HAVE CERTAIN LIMITATIONS. UNLIKE AN ACTUAL PERFORMANCE RECORD, SIMULATED RESULTS DO NOT REPRESENT ACTUAL TRADING. ALSO, SINCE THE TRADES HAVE NOT BEEN EXECUTED, THE RESULTS MAY HAVE UNDER-OR-OVER COMPENSATED FOR THE IMPACT, IF ANY, OF CERTAIN MARKET FACTORS, SUCH AS LACK OF LIQUIDITY. SIMULATED TRADING PROGRAMS IN GENERAL ARE ALSO SUBJECT TO THE FACT THAT THEY ARE DESIGNED WITH THE BENEFIT OF HINDSIGHT. NO REPRESENTATION IS BEING MADE THAN ANY ACCOUNT WILL OR IS LIKELY TO ACHIEVE PROFIT OR LOSSES SIMILAR TO THOSE SHOWN. Hypothetical or simulated performance results have certain inherent limitations. Unlike an actual performance record, simulated results do not represent actual trading. Also, since the trades have not actually been executed, the results may have under- or over-compensated for the impact, if any, of certain market factors, such as lack of liquidity. Simulated trading programs in general are also subject to the fact that they are designed with the benefit of hindsight. No representation is being made that any account will or is likely to achieve profits or losses similar to those shown. Important risk note: Binary options trading also involves significant risk. Traders should be aware of their individual capital gain tax liability in their country of residence. PutOption-CallOption.com and it's affiliates are only in good faith "sharing information" and is not making any recommendations to invest in currency or any other investment. Nor is PutOption-CallOption.com, it's owners and affiliates responsible for any losses incurred by sharing any information and is only sharing this information in good faith. PutOption-CallOption.com, it's owners and it's affiliates are not responsible in any way for losses incurred.
© Copyright 2017 PutOption-CallOption.com – All rights reserved.